Shayari On Eyes In Hindi
The eyes are not just a part of our nature, but thousands of delightful dreams, and also a valuable treasury of the Shayrana Practices. Aankhein Shayari or Shayari on Eyes are the most popular shayaries read by Lovers. So today we are providing some best Aankhein Shayari in Hindi like Aankhein Shayari in Hindi, Best Nigaah Shayaries, Najar Shayari Beautiful Eyes of Girlfriend, Two Line Aankhein Shayari, Best Aankhein Shayari for Wife And Girlfriend. Overwhelmingly impressive collection of Aankhein Shayari for Whatsapp and Facebook.
Ikraar Mein Shabdon Ki Ehamiyat Nahin Hoti,
Dil Ke Jazbaat Ki Aavaaz Nahin Hoti,
Aankhein Bayan Kar Deti Hain Dil Ki Dastaan,
Mohabbat Lafjon Ki Mohtaaj Nahin Hoti.
इकरार में शब्दों की एहमियत नहीं होती,
दिल के जज़्बात की आवाज़ नहीं होती,
आँखें बयान कर देती है दिल की दास्तान,
मोहब्बत लफ्जों की मोहताज नहीं होती।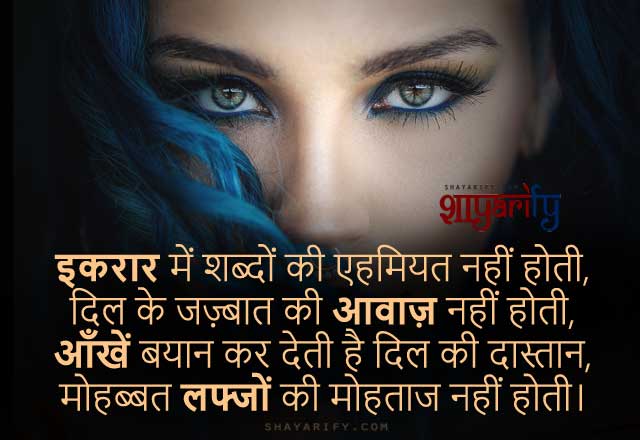 ---
Best Nigah Shayari Collection
Teri Nigah Dil Se Jigar Tak Utar Gayi,
Dono Ko Hi EkAda Mein Rajamand Kar Gayi.
तेरी निगाह दिल से जिगर तक उतर गयी,
दोनों को ही एकअदा में रजामंद कर गई।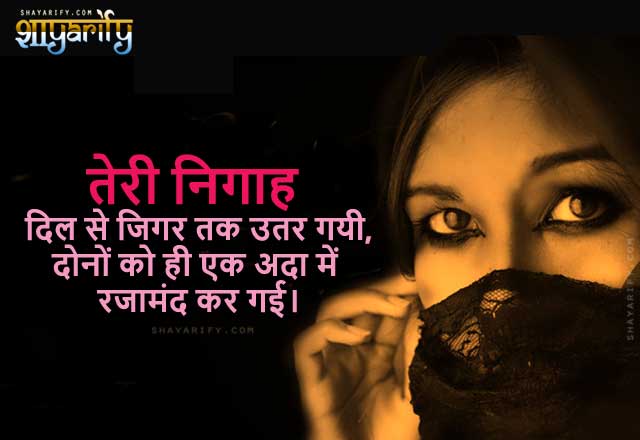 ---
Shayari On Eyes Depth In Hindi
Sagar Se Gahri Hain Aapki Ye Najren,
Khushiyon Ki Shahnai Hain Aapki Ye Najren,
Husn Ka Jaam Hain Aapki Ye Najaren,
Chhupayen Kai Armaan Aapki Ye Najren,
Le Le Na Kahin Hamari Jaan Aapki Ye Najaren
सागर से गहरी हैं आपकी ये नजरें,
खुशियों की शहनाई हैं आपकी ये नजरें,
हुस्न का जाम हैं आपकी ये नजरें,
छुपायें कई अरमान आपकी ये नजरें,
ले ले न कहीं हमारी जान आपकी ये नजरें।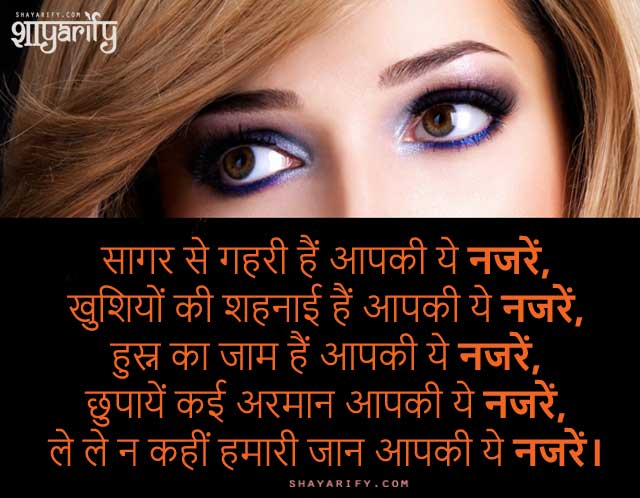 ---
Latest Shayari On Eys For Girlfriend or Wife
Ek Najar Dekh Le Hume Jeene Ki Izazat De De,
Ai Ruthne Wale... Wo Pahli Si Mohabbat De De.
एक नजर देख ले हमे जीने की इजाजत दे दे,
ए रुठने वाले... वो पहली सी मोहब्बत दे दे।
Jab Bhi Dekhta Hun Mujhse HarBar Nazaren Chura Leti Hai,
Maine Kagaz Par Bhi Bna Ke Dekhi Hain Aankhen Uski.
जब भी देखता हूँ मुझसे हरबार नज़रें चुरा लेती है,
मैंने कागज़ पर भी बना के देखी हैं आँखें उसकी।
---
New Ankhein Shayari
Usne Aankhon Se Aankhein Jab Mila Di,
Humari Zindagi Jhoom Kar Muskura Di,
Jubaan Se To Hum Kuchh Na Kah Sake,
Par Aankhon Ne Dil Ki Kahani Suna Di.
उसने आँखों से आँखें जब मिला दी,
हमारी ज़िन्दगी झूम कर मुस्कुरा दी,
जुबान से तो हम कुछ न कह सके,
पर आँखों ने दिल की कहानी सुना दी।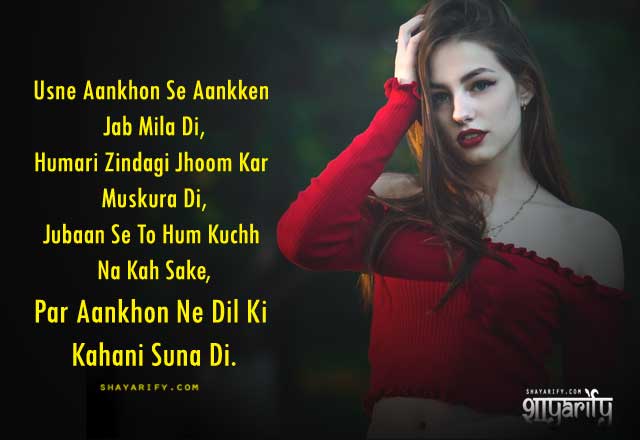 ---