Best Hindi Attitude Shayari
Attitude Shayari in Hindi and English Font : We are providing Latest Collection of Shayari for Attitude. Entire collection having very impressive Shayari, SMS and Status that is suitable for boys and girls, friends, girlfriend, boyfriend. I hope you liked this. Today, people show their arrogant pride and style through the High Attitude Shayari. It is often seen that people using the Attitude Shayari in Shirana style, and shows their attitudes on Facebook and Whatsapp.
Tasalli Se Padhe Hote To Samajh Mein Aate Ham,
Zaroor Kuchh Panne Bina Padhe Hi Palat Diye Honge.
तसल्ली से पढ़े होते तो समझ में आते हम,
ज़रूर कुछ पन्ने बिना पढ़े ही पलट दिए होंगे।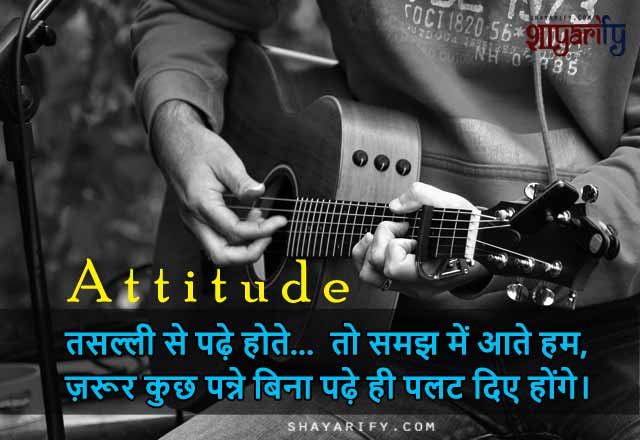 Ek Isi Usool Par Gujaari Hai Zindagi Maine,
Jisko Apna Mana Use Kabhi Parkha Nahin.
एक इसी उसूल पर गुजारी है जिंदगी मैंने,
जिसको अपना माना उसे कभी परखा नहीं।
---
Faqeer Mizaaz Hoon, Mai Apna Andaaz
Auron Se Juda Rakhati Hoon,
Log Masjido Me Jaate Hai,
Main Apne Dil Me Khuda Rakhti Hoon .
फ़क़ीर मिज़ाज़ हूँ, मै अपना अंदाज़
औरों से जुदा रखती हूँ,
लोग मस्जिदो मे जाते है,
मै अपने दिल मे ख़ुदा रखती हूँ।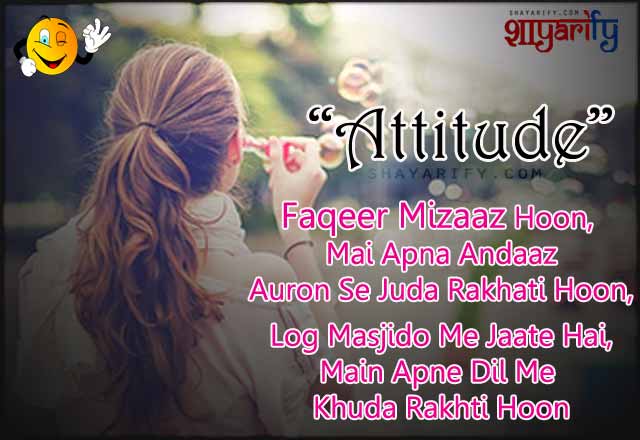 ---
Mere Saath Jab Main Khud Khada Hota Hoon,
Tab Main Qayamat Ke Har Toofaan Se Bada Hota Hoon.
मेरे साथ जब मैं खुद खड़ा होता हूँ,
तब मैं क़यामत के हर तूफ़ान से बड़ा होता हूँ।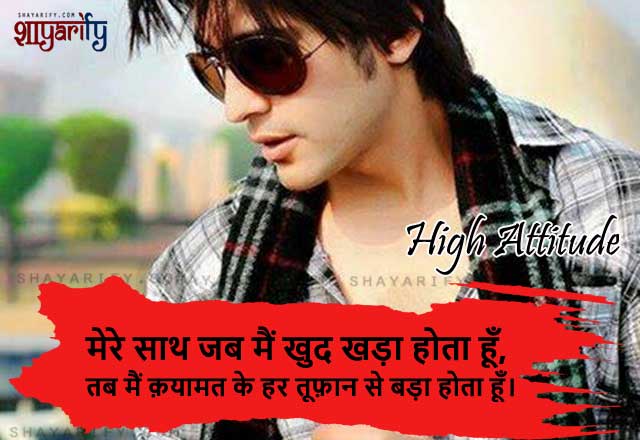 ---
Wo Attitudai Hi Kya,
Jo Waqt Ke Saath Toot Kar Bikhar Jaaye,
Agar Koi Kisi Se Dil Lagaye,
To Aise Lagaye Jaise Tez Aandhi
Sookhe Patto Ko Na Uda Paye.
वो Attitude ही क्या
जो वक्त के साथ टूट कर बिखर जाये,
अगर कोई किसी से दिल लगाये,
तो ऐसे लगाये जैसे तेज़ आंधी
सूखे पत्तो को न उड़ा पाए।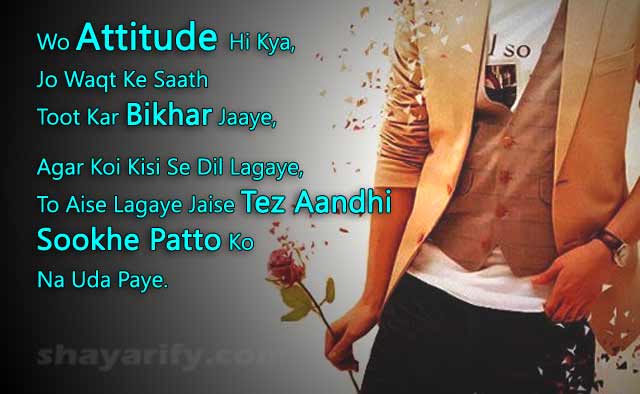 ---
Vahi Hamare Kaabil Na Tha Dosto, Varna,
Mohabbat Ki Kya Aukaat Jo Hame Thukara De.
वही हमरे काबिल न था दोस्तों, वरना,
मोहब्बत की क्या औकात जो हमे ठुकरा दे।
Chhede Is Sher Ko, Hai Kisiki Itani Aukaat,
Gardish Mein Gher Lete Hain Geedad Bhi Sher Ko.
छेड़े इस शेर को, है किसीकी इतनी औकात,
गर्दिश में घेर लेते हैं गीदड़ भी शेर को।
---