Sad Shayari
In present Era love is very underated among people they are not able to express their feelings properly to their lovers. So with this content we will help you out in expressing your love. If you are searching for Sad Shayari on internet, then Today I'm going to share with you sad Shayari collection in Hindi and english. Lovers are using sad shayari To express their feelings. Sad shayari is most famous rhyme worldwide. No matter what language people are using for shayari, but in India the Hindi language are using for shayari. I have provided you the large collection of sad shayari you will love this collection you can find many different shayari from below & just choose one of them and share with your loved one. So Friends Read here best sad shayari in hindi like love breakup sad shayari, new sad shayari with image, shayari on sad feelings, latest sad shayari, sad sms picture, sad status, latest sad status for whatsapp, sad message, sad fb status, sad shayari for girlfrind/boyfriend etc. You can share these Sad Shayaris to your friends, girlfrind, gf, boyfriend, bf. If you do like our collection, don't forget to like/share on facebook and Whatsapp.
Ishq Ki Hamare Bas Itni Si Kahani Hai,
Tum Bichhad Gaye Ham Bikhar Gaye,
Tum Mile Nahin Aur...
Ham Kisi Aur Ke Huye Nahi.
इश्क की हमारे बस इतनी सी कहानी है,
तुम बिछड गए हम बिख़र गए,
तुम मिले नहीं और...
हम किसी और के हुए नही।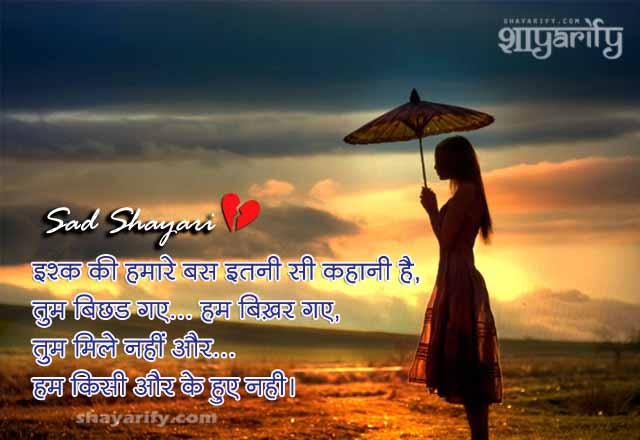 ---
Jab Milo Kisi Se
To Jara Door Ka Rishta Rakhna,
Bahut Tadpaate Hain
Aksar Seene Se Lagaane Waale.
जब मिलो किसी से
तो जरा दूर का रिश्ता रखना,
बहुत तङपाते है
अक्सर सीने से लगाने वाले।
---
Ajeeb Sa Dard Hai In Dinon Yaaro,
Na Bataun To Kaayar, Bataoon To Shayar.
अजीब सा दर्द है इन दिनों यारों,
न बताऊं तो 'कायर', बताऊँ तो 'शायर'।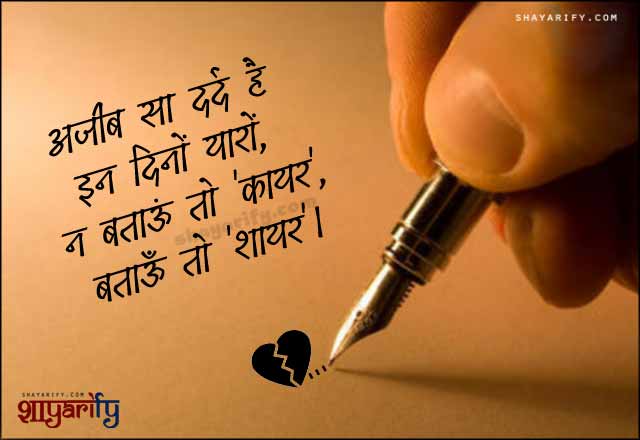 ---
Ye Meri Mahobbat Aur Uski Nafrat Ka Mamla Hai,
Ai Mere Naseeb Tu Beech Mein Dakhal-Andaji Mat Kar.
ये मेरी महोब्बत और उसकी नफरत का मामला है,
ऐ मेरे नसीब तू बीच में दखल-अंदाज़ी मत कर।
Na Jane Kis Baat Pe Wo Naraj Hain Hamse,
Khwabon Me Bhi Milta Hoon To Baat Nahi Karti.
ना जाने किस बात पे वो नाराज हैं हमसे,
ख्वाबों मे भी मिलता हूँ तो बात नही करती।
---
Sochta Raha Ye Raatbhar Karavat Badal Badal Kar,
Jane Wo Kyu Badal Gaya, Mujhko Itna Badalkar.
सोचता रहा ये रातभर करवट बदल बदल कर,
जानें वो क्यों बदल गया, मुझको इतना बदल कर।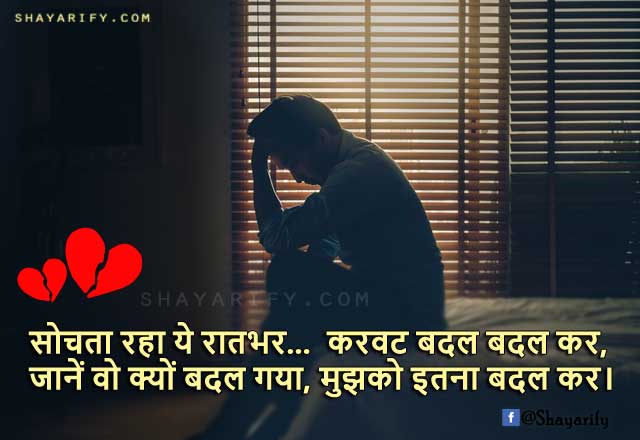 ---