Best Love Shayari
Best Love Shayari in Hindi : If you want to get the best love shayari and want to share it with your friends, then We are providing Latest Collection of Shayari about Love like best Love Shayari, Latest Love Shayari, हिंदी लव शायरी, Two Line Love Shayari, न्यू लव शायरी Love Sms and Love Status. I hope you liked this Hindi Love Shayari collection. Shayari is a type of Stave, that enables a man to express his profound emotions from base of the heart through words. You will get all the Latest and updated collection of Best Love Shayari in Hindi. Also Check our updated collection of Best Sad Shayari in Hindi and Hindi Misssing You Shayari.
Abhi Aaye, Abhi Baithe, Abhi Daman Sambhala Hai,
Tumhari Jaoon Jaoon Ne Hamara Dam Nikala Hai.
अभी आए, अभी बैठे, अभी दामन संभाला है,
तुम्हारी जाऊं जाऊं ने हमारा दम निकाला है।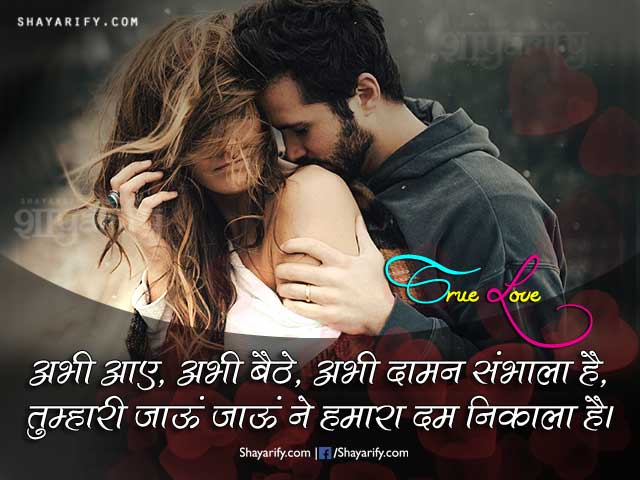 Ishq Mohabbat Deevangi... Ye Bas Lafj The,
Jab Tum Mile Tab In Lafjon Ko Mayne Mile.
इश्क मोहब्बत दीवानगी... ये बस लफ्ज थे,
जब तुम मिले तब इन लफ्जों को मायने मिले।
---
Ishq Mein Tera Yakeen Ban Jaun, Dard Mein Tera Sukoon,
Tum Rakho Kadam Jahan Khuda Kare Main Vo Jami Ban Jaun.
इश्क में तेरा यकीन बन जाऊं, दर्द में तेरा सुकूं,
तुम रखो कदम जहाँ, खुदा करे मैं वो जमीं बन जाऊं।
Kaash... Kisi Lakeer Mein Mil Jaoon Main,
Mujhe Kuch Karib Se Dekhne De #Hatheli Teri.
काश... किसी लकीर में मिल जाऊं मैं,
मुझे कुछ करीब से देखने दे #हथेली तेरी।
---
Nazre Karam Mujh Par Itna Na Kar,
Ki Teri Mohabbat Ke Liye Baagi Ho Jaaun,
Mujhe Itna Na Pila Ishq-E-Jaam Ki,
Main Ishq Ke Jahar Ka Aadi Ho Jaaun.
नज़रे करम मुझ पर इतना न कर,
की तेरी मोहब्बत के लिए बागी हो जाऊं,
मुझे इतना न पिला इश्क़-ए-जाम की,
मैं इश्क़ के जहर का आदि हो जाऊं।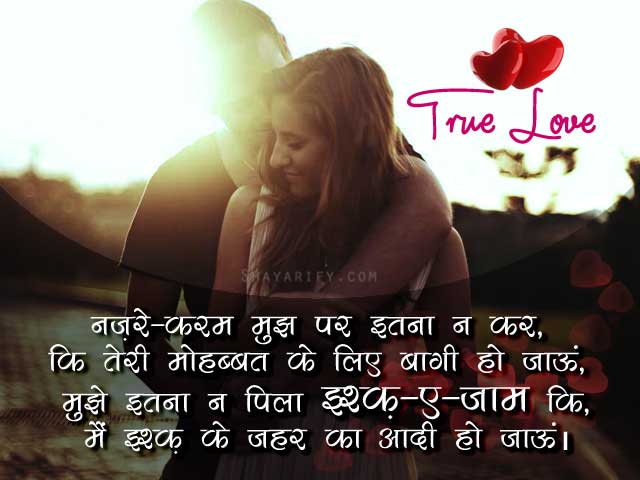 ---
Hamen Seene Se Lagakar Hamari Sari Kasak Door Kar Do,
Ham Sirf Tumhare Ho Jaye Hamen Itna Majaboor Kar Do.
हमें सीने से लगाकर हमारी सारी कसक दूर कर दो,
हम सिर्फ तुम्हारे हो जाऐ हमें इतना मजबूर कर दो।
Apni Kalam Se Dil Se Dil Tak Ki Baat Karte Ho,
Seedhe Seedhe Kah Kyon Nahin Dete Ham Se #Pyar Karte Ho.
अपनी कलम से दिल से दिल तक की बात करते हो
सीधे सीधे कह क्यों नहीं देते हम से #प्यार करते हो।
---
Ghayal Kar Ke Mujhe Usne Poochha,
Karoge Kya Phir Mohabbat Mujhse,
Lahoo-Lahoo Tha Dil Mera Magar
Honthon Ne Kaha Beintha-Beintha.
घायल कर के मुझे उसने पूछा,
करोगे क्या फिर मोहब्बत मुझसे,
लहू-लहू था दिल मेरा मगर
होंठों ने कहा बेइंतहा-बेइंतहा।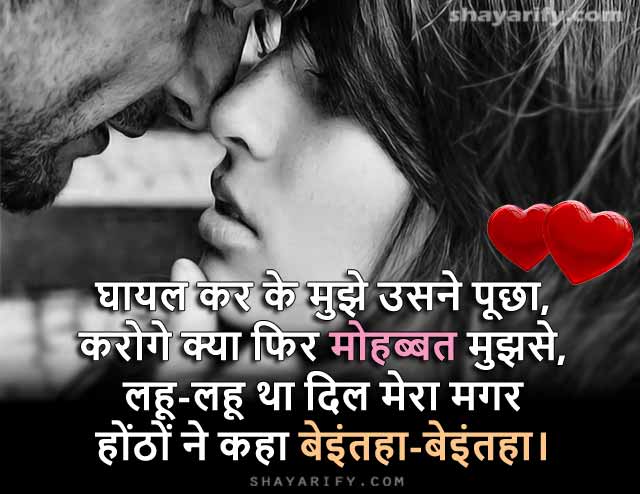 ---